Commercializing Living Therapies with CCRM
Join CCRM's host, Krista Lamb, and cell and gene therapy experts to hear insider insights, information and trend forecasts for the regenerative medicine and cell and gene therapy industry. Listen and subscribe on your favourite podcast platform or check back on this page for new episodes. Reach the podcast team by emailing: podcast@ccrm.ca.
April 14, SEASON: 2, EPISODE: 6
Stuck in the sixties: The fight to fast-forward access to better cancer treatment
Examining what the current standard of care means for patients and families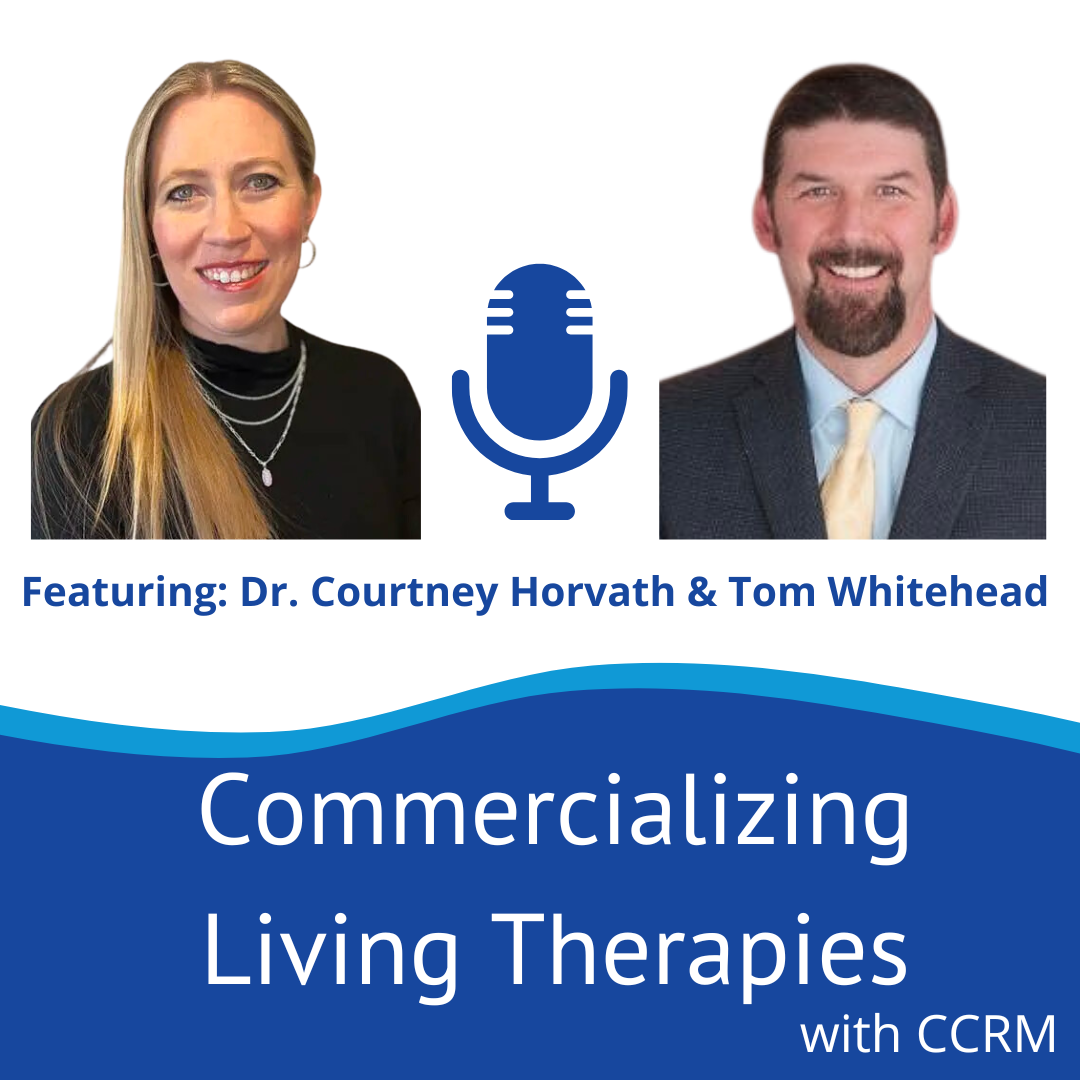 Featuring:
Tom Whitehead, Co-Founder, Emily Whitehead Foundation.
Courtney Horvath, PhD, Global Head of Strategy, Planning & Operations, Translational Medicine, Novartis.
In this episode, we hear from two parents who supported their children through cancer treatments. Listeners will hear their unflinching accounts of what the children went through, underlining the urgent need for access to innovative and less toxic treatments.
Tom is the co-founder of the Emily Whitehead Foundation, named after his daughter Emily, who was the first child in the world to have her immune system trained to beat cancer through a CAR T-cell clinical trial. Since this experience, Tom and his family have dedicated themselves to paying it forward and helping other families achieve the same outcomes.
Dr. Horvath's son, Colby, was diagnosed with low-risk lymphoma at eight years old. Doctors advised that there was a 90 per cent chance of a cure if Colby underwent frontline treatment, which consisted of two-and-a-half years of intensive chemotherapy. As a toxicologist, Dr. Horvath admits that she had difficulty accepting the level of toxicity associated with this treatment regimen. She has become a tireless advocate in the pharmaceutical community about what the current standard of care means for children with cancer.
March 14, SEASON: 2, EPISODE: 5
CAR T therapies: Engineering immune cells to treat cancer
Guests discuss the future of CAR T-cell therapies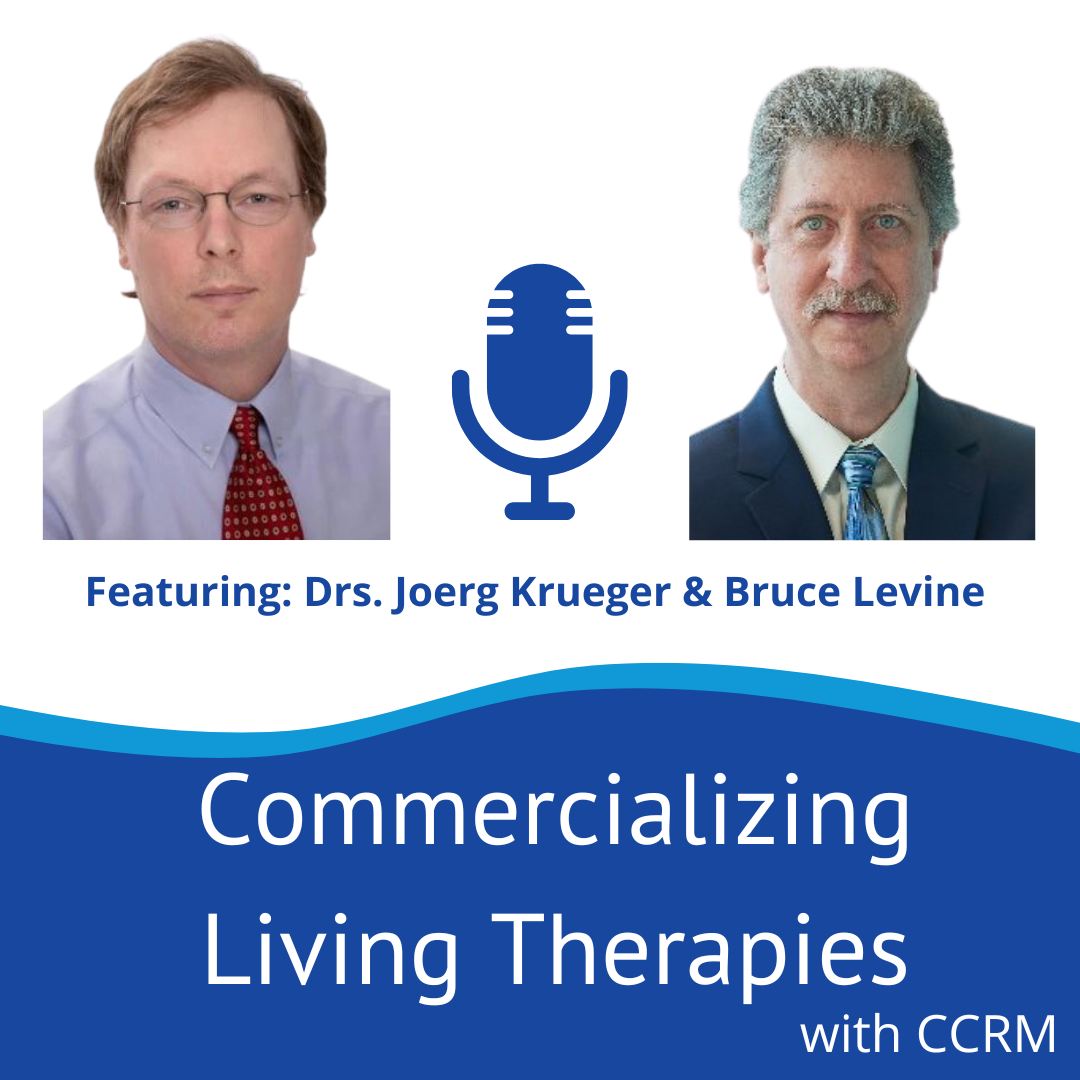 Featuring:
Dr. Joerg Krueger, Medical Director, CAR T-Cell Program, The Hospital for Sick Children.
Dr. Bruce Levine, Barbara and Edward Netter Professor in Cancer Gene Therapy, University of Pennsylvania Perelman School of Medicine.
Our guests discuss the future of CAR T-cell therapies, in a conversation covering autologous and allogeneic CAR T therapies. Drs. Krueger and Levine share their thoughts on which of these two approaches is likely to pull ahead in the years to come, while acknowledging some of the challenges that will need to be overcome for each, including donor-to-donor variability. Also examined are the differences in adult and pediatric treatment options, along with the complexity involved in manufacturing CAR T cells. Recent advances in the area of solid tumours are highlighted, ending on a note that looks to the future of immunotherapy with warranted optimism.
February 14, SEASON: 2, EPISODE: 4
Protecting the product of innovation: IP and commercialization in cell and gene therapies
Intellectual property and commercialization issues in cell and gene therapies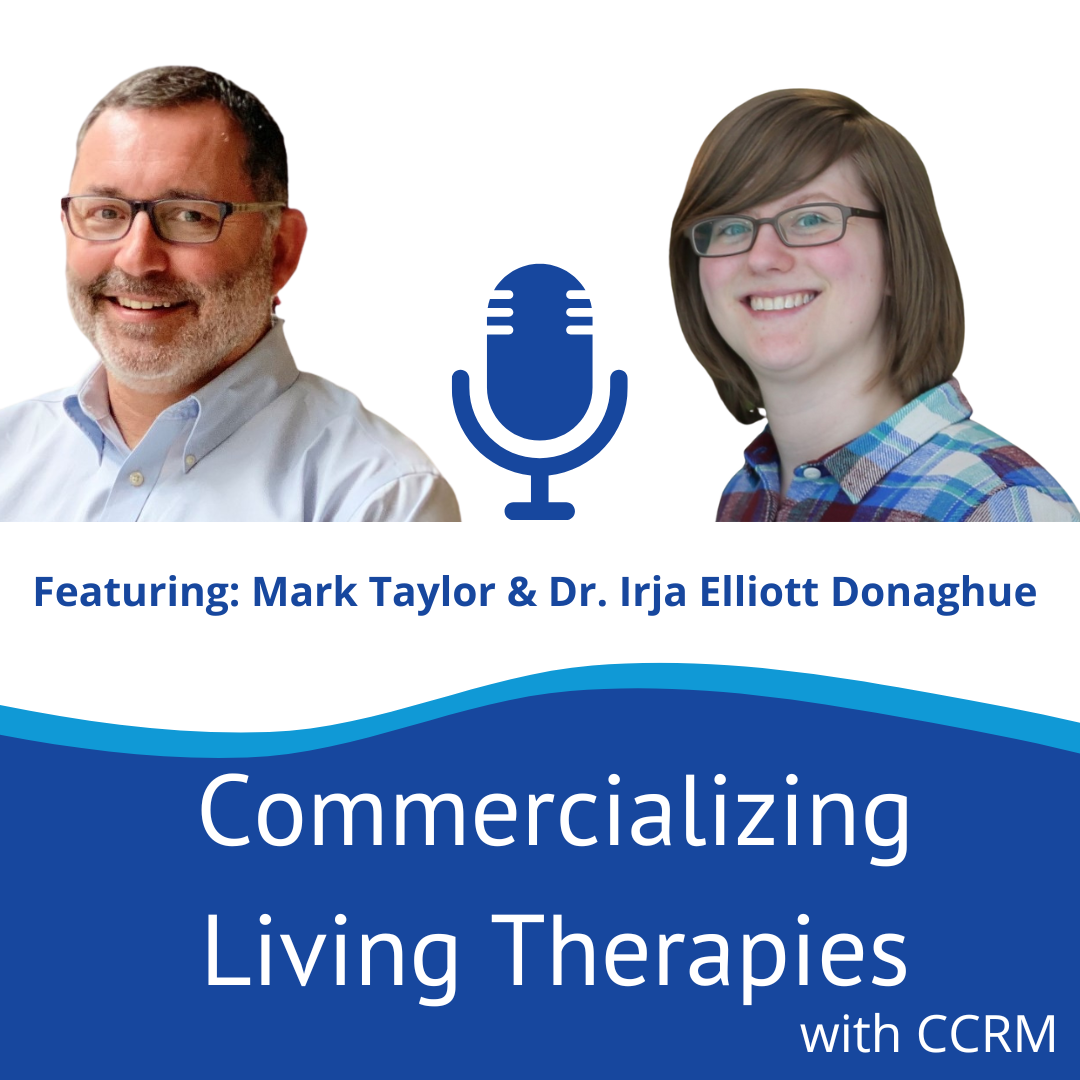 Featuring:
Mark Taylor, Director of Commercialization, University Health Network
Dr. Irja Elliott Donaghue Technical & IP Specialist and Patent Agent, Notch Therapeutics
In the past, there was little evidence to challenge the idea that if a therapeutics developer did not hold a patent, it did not have anything to commercialize. In this episode, guests outline how the regenerative medicine industry changed that, proving the belief to be outdated, with some innovation being better protected by developers taking a "trade secrets" approach. Listen to hear guests examine intellectual property and commercialization issues in cell and gene therapies, with discussion of the complexities around the long-running patent battle over CRISPR technology, which has garnered international headlines in the last couple of years. Also discussed is how to protect and publish research, and the importance of having discussions with commercialization teams early in the technology development process.
January 14, SEASON: 2, EPISODE: 3
Mentoring: making moves to maximize career growth
Building mutually-beneficial mentor relationships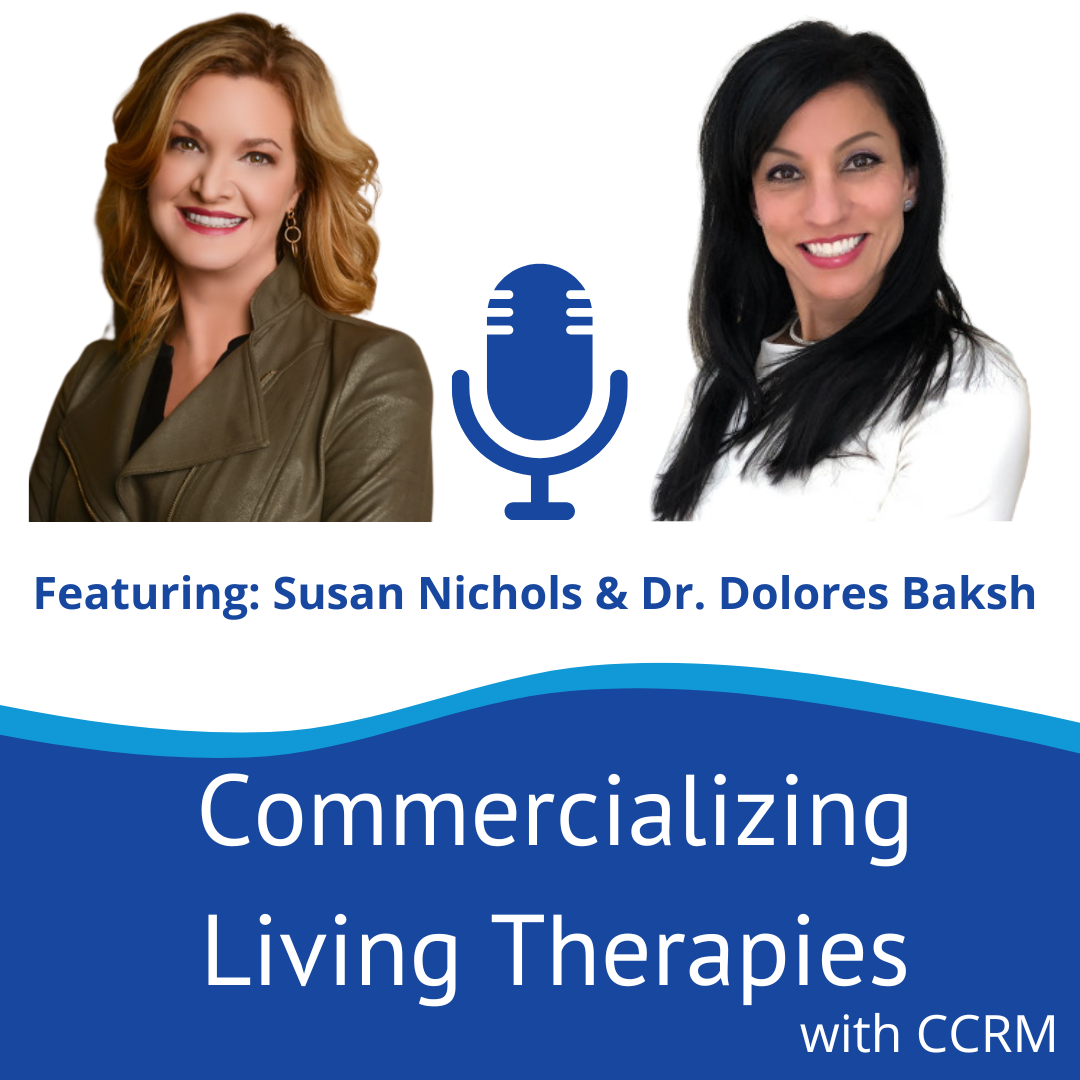 Featuring:
Dr. Dolores Baksh, CEO of TAAV Biomanufacturing Solutions
Susan Nichols, Chief Business Officer at ViroCell Biologics
As the cell and gene therapy industry continues to grow rapidly, Dolores Baksh and Susan Nichols emphasize the importance of nurturing a new workforce equipped with the skills to pivot and persevere—crucial qualities for the industry to grow. Join our guests as they discuss the significance of mentorship in the cell and gene therapy space, which mentorship programs they recommend, and hear why they feel an obligation to "pay it forward" to the next generation of leaders. The conversation touches on the power of mentorship at any career stage and how mentorship can be mutually beneficial. Ready to be a mentor or mentee? Listen and find out where to start.
December 14, SEASON: 2, EPISODE: 2
Unlocking the potential of induced pluripotent stem cells
Examining the challenges to overcome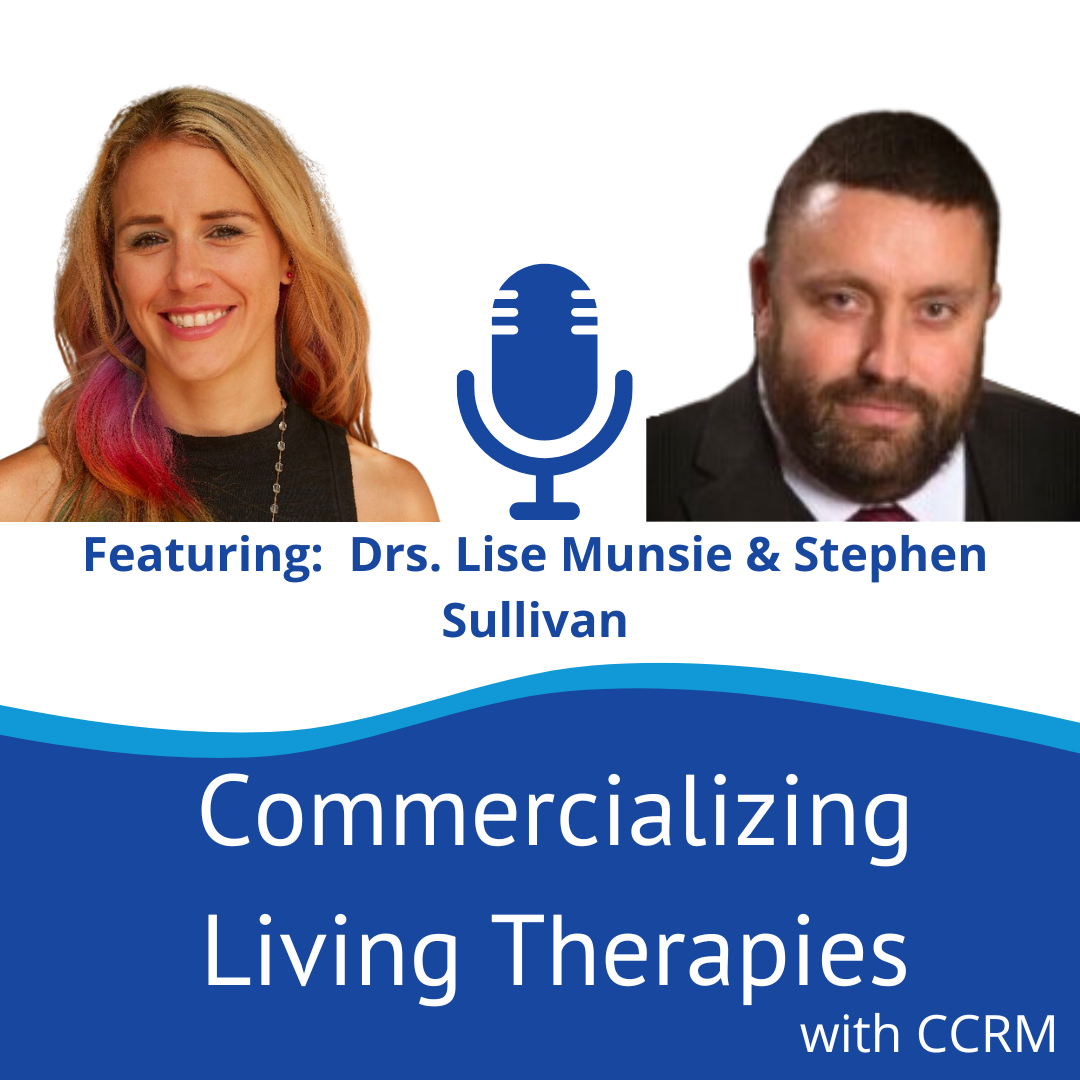 Featuring:  
Dr. Lise Munsie, Vice President, iPSC Technology Platform, CCRM
Dr. Stephen Sullivan, Programme Manager, Global Alliance for iPSC Therapies (GAiT) 
Drs. Lise Munsie and Stephen Sullivan explore some of the biggest challenges that will need to be addressed to unlock the potential of induced pluripotent stem cells (iPSCs), from regulatory issues to quality assurance and safety. Listen to hear about the proactive approach CCRM takes with its iPSC Excellence Team. You'll also hear why having a central, international resource for organizations developing therapies from clinical-grade iPSCs is key for the cell and gene therapy industry, and how GAiT delivers this. This wide-ranging episode touches on the importance of contract development and manufacturing organizations (CDMOs) in bridging "professional silos;" global equity-of-access to these technologies as they move closer to the clinic; and the importance of diversity in clinical trials to ensure no patient group is left behind. 
November 14, SEASON: 2, EPISODE: 1
Training tomorrow's talent: building the biomanufacturing workforce
How to train and retain tomorrow's cell and gene therapy (CGT) workforce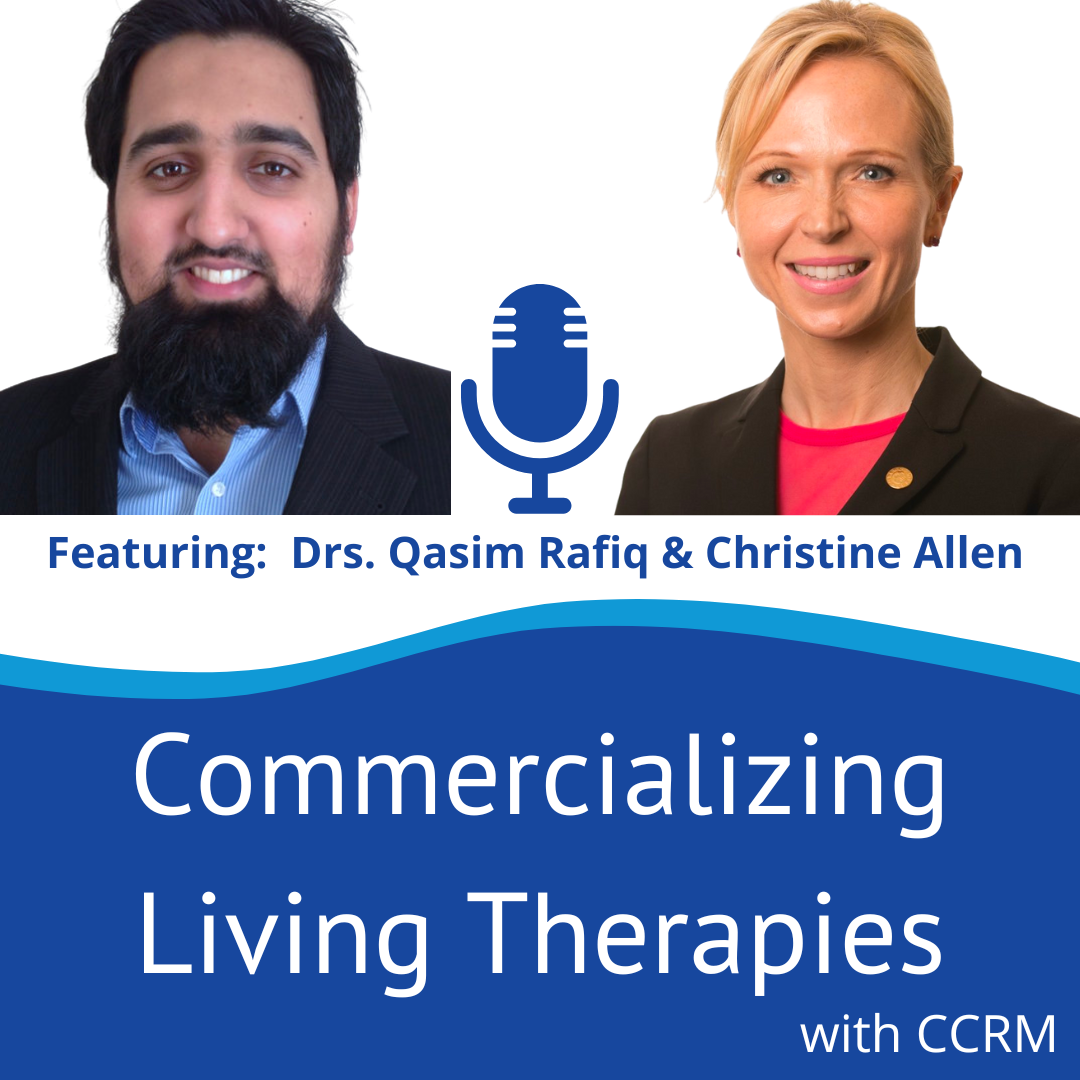 Featuring:
Dr. Qasim Rafiq, Associate Professor in Cell and Gene Therapy Bioprocess Engineering, University College London (UCL)
Dr. Christine Allen, Vice-President, Ecosystem Development, adMare BioInnovations
Drs. Christine Allen and Qasim Rafiq offer insight on how to train and retain tomorrow's cell and gene therapy (CGT) workforce in a very competitive space. We've witnessed an "explosion" of activity and they believe it's up to industry to address the skills gap and to focus on training to prepare for new roles and future leadership positions in a global market. Many of the companies in the cell and gene therapy space are small and medium-sized enterprises that are competing with the talent and retention programs of much larger global companies. Listen to hear about the best practices that can catch talent at an early career stage and keep them in the CGT industry.
You'll hear about training programs that are leading the way, including adMare's Executive Institute, which is addressing the pressing need for strong senior leadership professionals to drive the industry forward, and UCL's new MSc degree program in Manufacturing & Commercialisation of Stem Cell and Gene Therapies, which Dr. Rafiq directs.
June 14, SEASON: 1, EPISODE: 6
You get what you pay for
How will Canada's health care system pay for cell and gene therapy cures?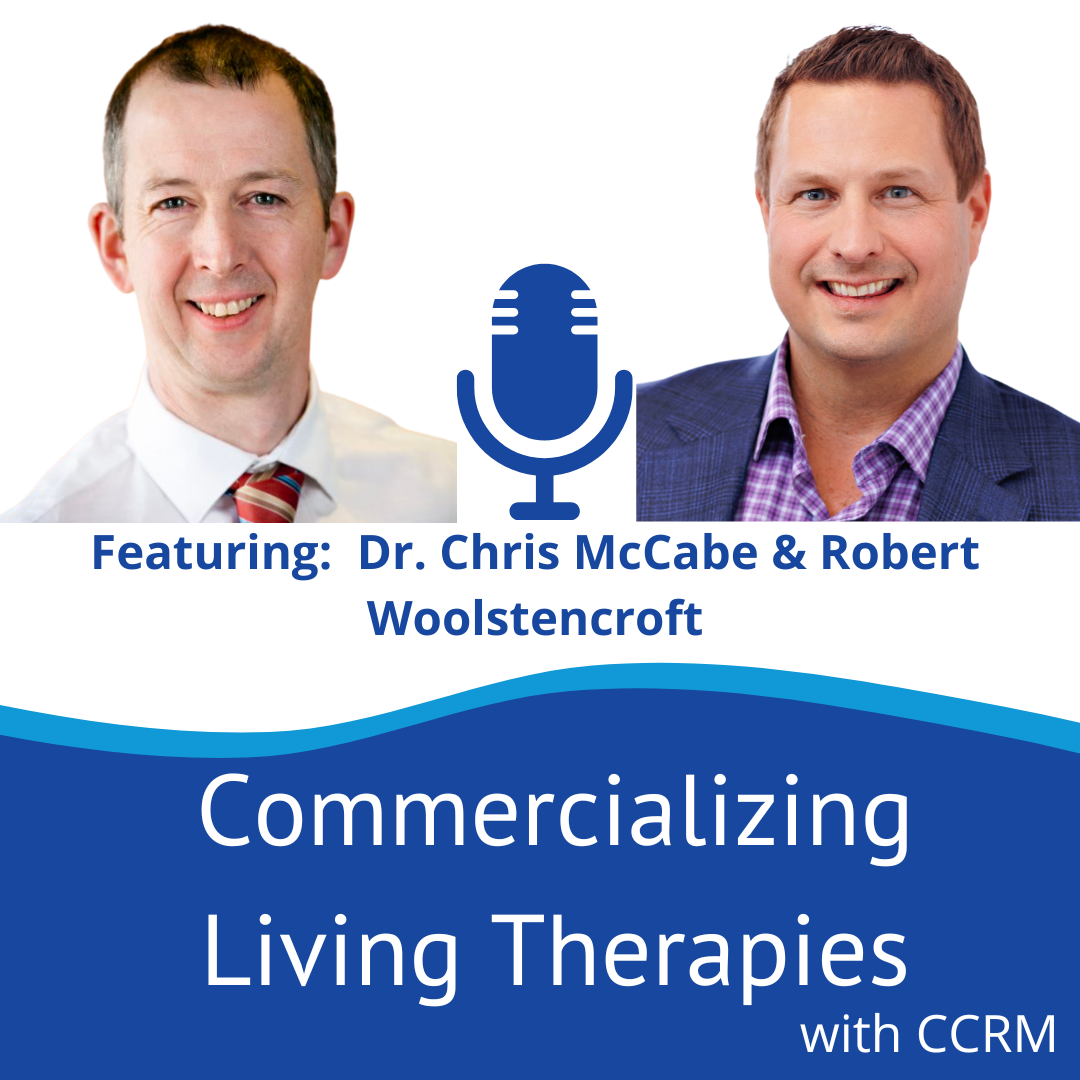 Featuring: 
Dr. Chris McCabe, CEO and Executive Director, Institute of Health Economics
Robert Woolstencroft, Senior Director and Head, Market Access and Reimbursement, Gilead Sciences Canada  
Our guests tackle the complex question of how therapy developers working at the cutting edge of regenerative medicine can get reimbursed when they deliver on the promise of cures. How can patients on Prince Edward Island be guaranteed equitable access to innovative new therapies compared to patients in much larger provinces like Ontario or British Columbia? Performance-based payment models are often discussed, but are they really the solution? Despite Canada's complex and fragmented health-care system, the challenges faced are by no means insurmountable. Join us to hear how political will and partnerships across stakeholders are prerequisites for building a health-care system that's ready to equitably deliver these innovative new therapies to patients.  
May 14, SEASON: 1, EPISODE: 5
A busy intersection: Ethics and policy in cell and gene therapies
Examining the role ethical considerations and regulatory frameworks will play in regenerative medicine's future.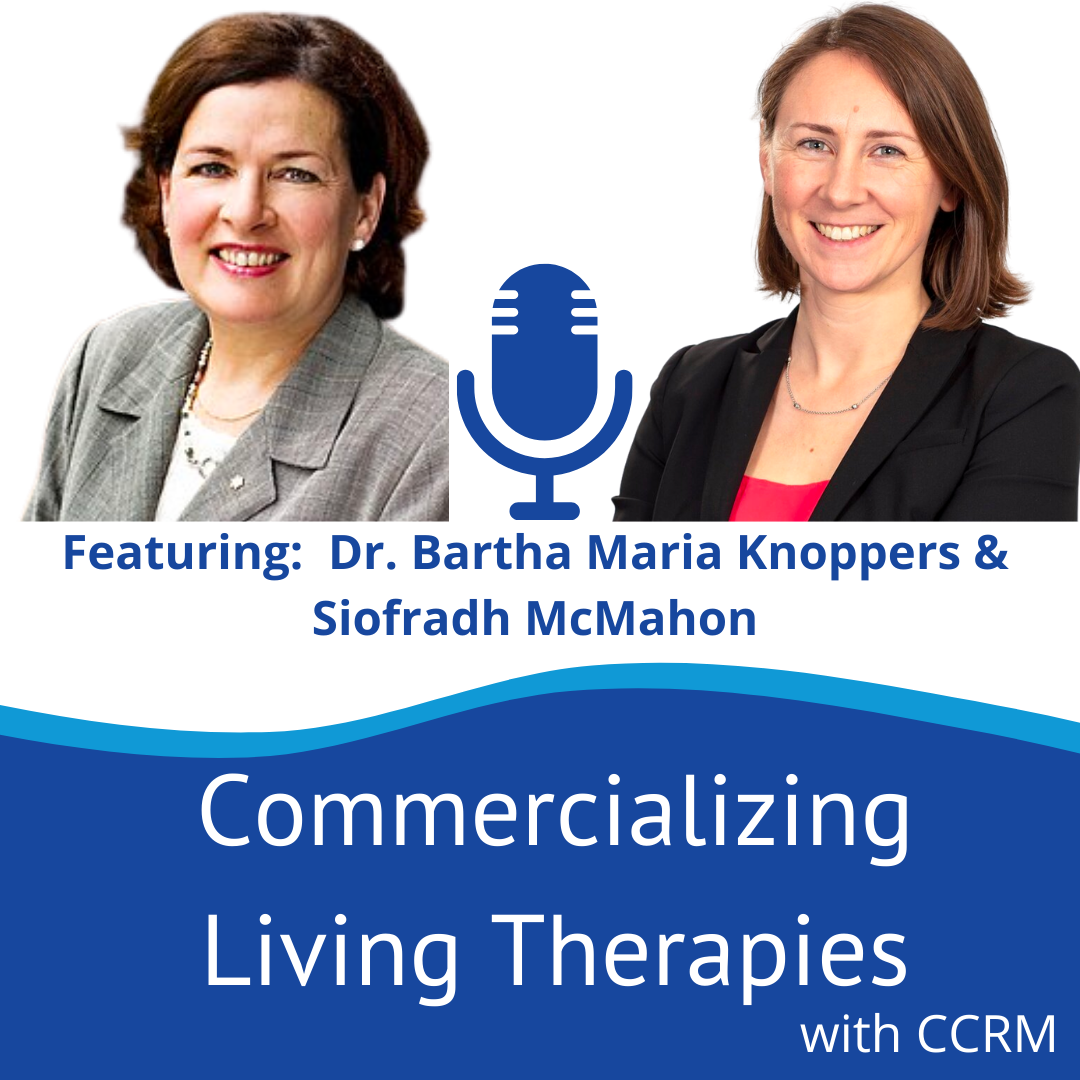 Featuring: 
Prof. Bartha Maria Knoppers, Canada Research Chair in Law and Medicine, and Director of the Centre of Genomics and Policy, Faculty of Medicine, McGill University
Siofradh McMahon, Director, Clinical Translation and Regulatory Affairs, CCRM 
Join guests for a discussion about the responsibilities of the regenerative medicine industry, exploring how ethics can and should be embedded into the world's emerging regulatory frameworks for cell and gene therapies.  
Are kneejerk, fear-based reactions influencing the regulatory environment? How can international compliance be ensured when some industries working on genetically modified organisms, such as agriculture, are less tightly regulated than therapeutics? Is the conversation around emerging therapies unbalanced, focusing too much on benefits and not enough on risks, encouraging patients to demand access to unproven, risky therapies? Listen to find out. 
March 14, SEASON: 1, EPISODE: 4
The Future's Synthetic
Looking to the future of synthetic biology in cell and gene therapies.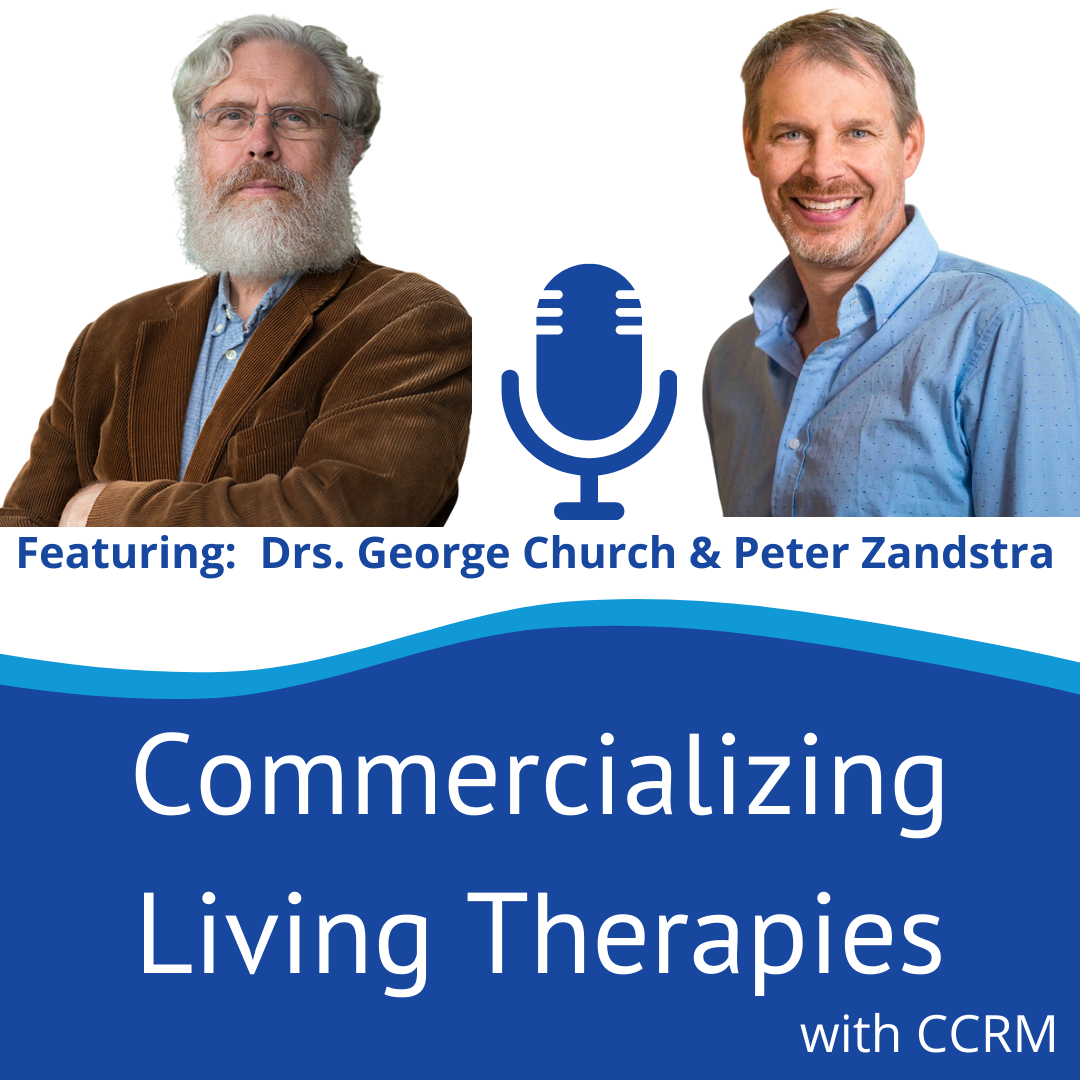 Featuring:
Dr. George Church, Professor of Genetics, Harvard Medical School
Dr. Peter Zandstra C.M., Director and Professor, School of Biomedical Engineering, University of British Columbia
Hear from Drs. Church and Zandstra about the promise of the emerging synthetic biology field, looking to the impact developments will have on cell and gene therapies. They discuss how the regenerative medicine ecosystem needs to prepare for the arrival of transformative synthetic biology-based technologies, how equitable distribution can happen, and what those looking to commercialize these technologies will need to consider. The conversation also touches on the ethical considerations synthetic biology raises, asking how we stay on the right track en route to the future of personalized medicine.
February 14, SEASON: 1, EPISODE: 3
Moving from A to B
Manufacturing and supply chain issues in cell and gene therapies.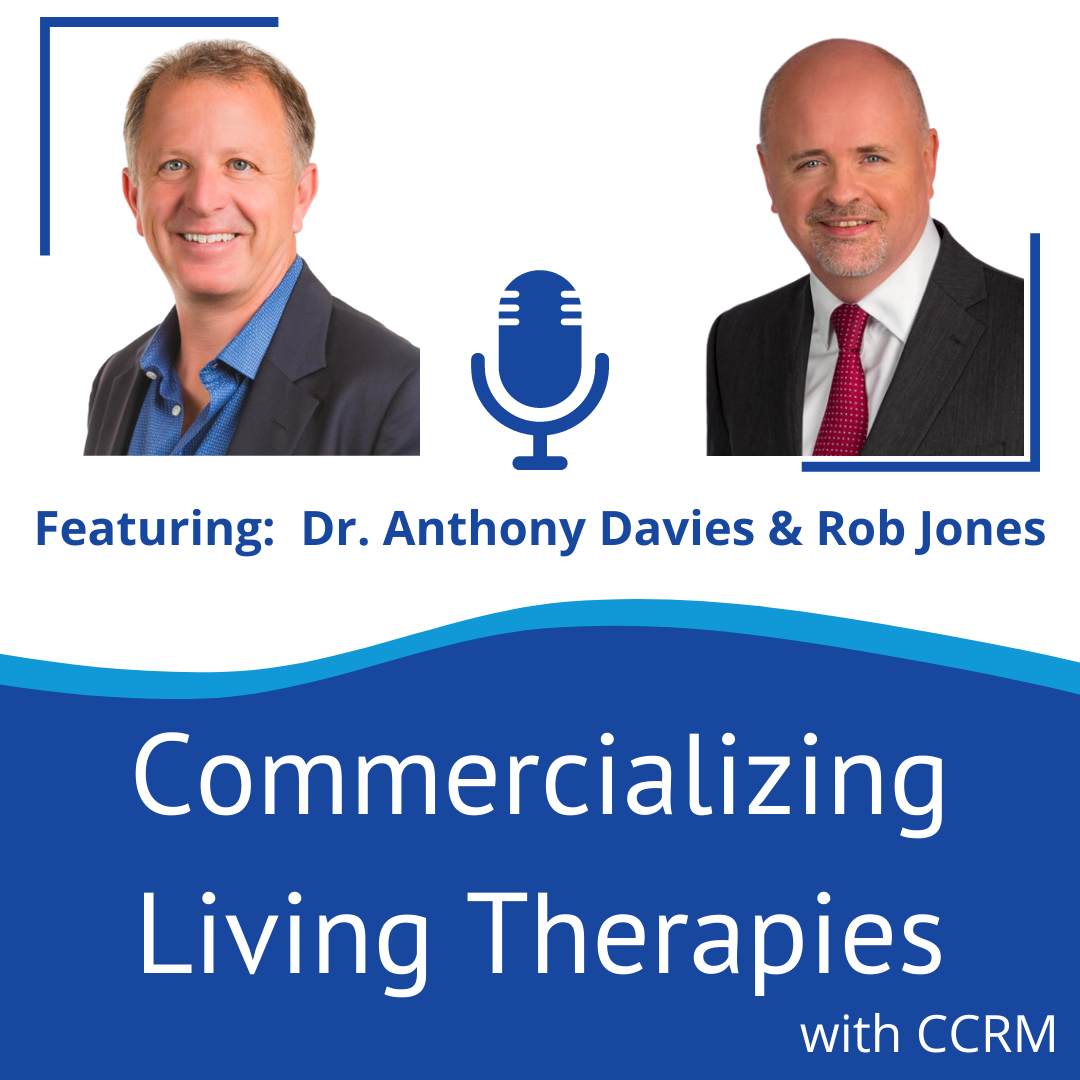 Featuring:
Dr. Anthony Davies, Founder and CEO, Dark Horse Consulting
Rob Jones, Vice President, Global Bioservices, Cryoport Systems
It's no secret that supply chain and manufacturing are crucial to the cell and gene therapy industry, but now the whole world seems to be paying attention. This sudden interest has made Anthony Davies and Rob Jones very popular at dinner parties! Join our guests and CCRM's host, Krista Lamb, as we delve into some of the big issues related to manufacturing and supply chains. We discuss bringing down COGS, consider the merits of centralized vs. decentralized manufacturing, and contemplate how the industry can scale up to meet the demands of the future, when growth and uptake of cell and gene therapies increases.
January 14, SEASON: 1, EPISODE: 2
Chaperoning innovation through the valley of death
The business of regenerative medicine and investment.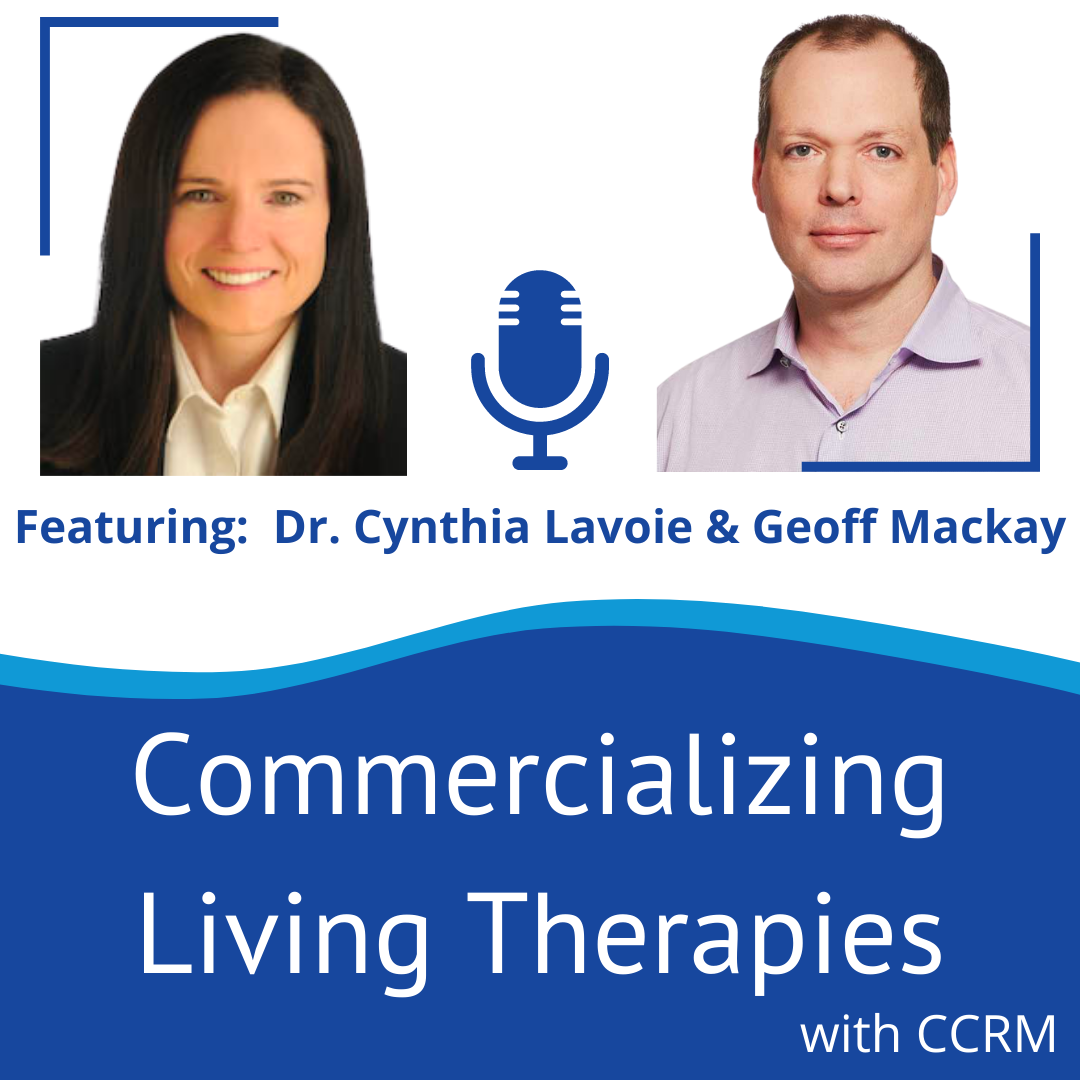 Featuring:
Dr. Cynthia Lavoie, President and Chief Investment Officer, CCRM Enterprises
Geoff MacKay, President and CEO, AVROBIO
Dr. Lavoie and Mr. MacKay share what brought them to regenerative medicine in the first place, why investors are bullish about the field, and which trends they have an eye on as they are looking to the future. Join our guests and CCRM's host, Krista Lamb, as we unpack the business of regenerative medicine to understand what investors look for and how investment can help innovations through the infamous "valley of death," where new inventions often fail en route to the clinic.
December 14, SEASON: 1, EPISODE: 1
The importance of educating the public about cell and gene therapies
How can the regenerative medicine community create broader societal awareness?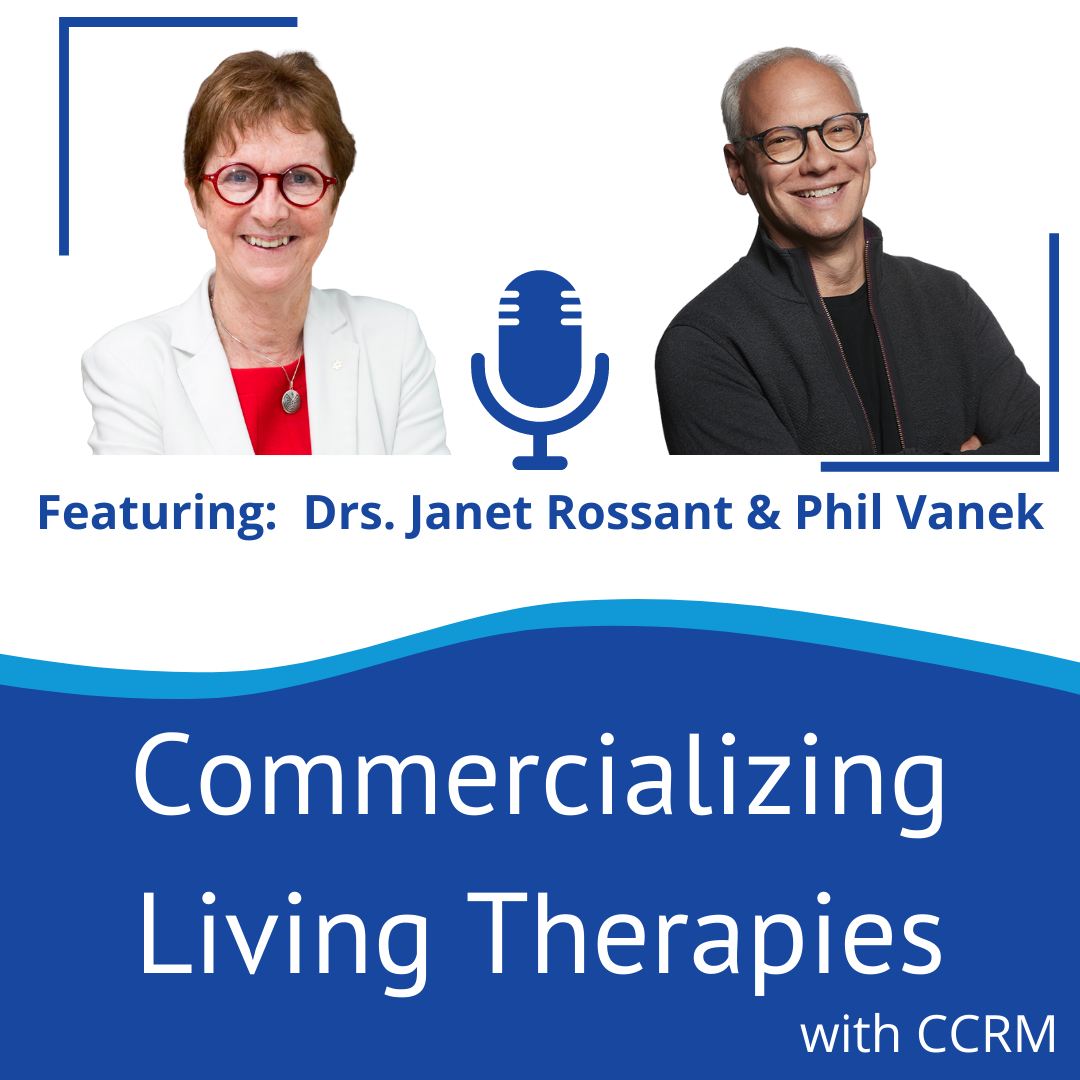 Featuring:
Dr. Janet Rossant, President and Scientific Director, Gairdner Foundation
Dr. Phil Vanek, Chief Technology Officer, Gamma Biosciences
Drs. Rossant and Vanek discuss public awareness of cell and gene therapies, the importance of improving it, and how confusing and misleading claims made about unapproved stem cell treatments hinder our sector's public education efforts. Join our guests and CCRM's host, Krista Lamb, to hear why regenerative medicine is at a real tipping point, both in terms of public awareness, and technologies that will transform patients' lives.